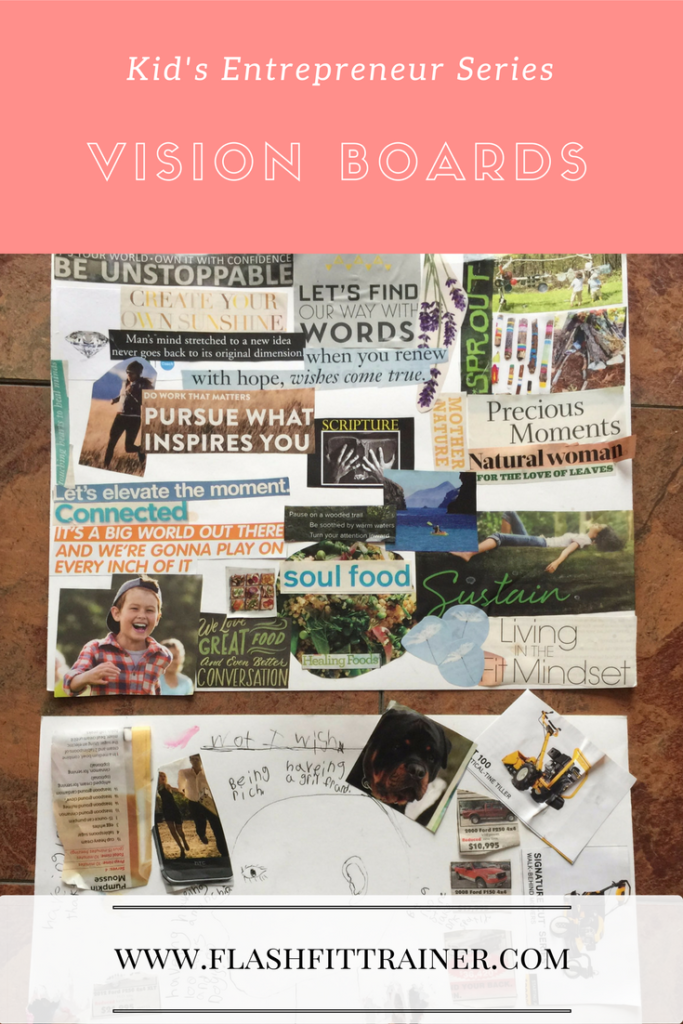 One of the first things Kayne and I did for our Kid's Entrepreneur Series was make vision boards.
I just love making vision boards, don't you?
I'm a visual person, so I like to see my goals in color, in different fonts, in pictures.
And I wanted my son to have a clear vision of what we were working for. It's not just to make money for money's sake. We set goals for a reason.
Otherwise, what's the point of having a business and making money?
Here are the final products:
Mine's all "Do work that matters" and "Let's find our way with words" and "Let's elevate the moment" and "for the love of leaves" with Scripture dead center.
Meanwhile, Kayne's is all tractors and girls and dogs.
It cracks me up a little. Clearly he's a boy and I'm a girl. And clearly there's a value difference.
We're still working on the materialism with him.
But I think the main point here, the main point of creating vision boards, is to set goals and to give yourself something to work toward. To give real visible life to your dreams. To provide motivation.
For a good half of my life, at least, I never really sat down to figure out what I wanted. I didn't know what to "want." I didn't really know I had permission to "want." Now, they are the driving force of so much that I do!
All of my "wants" are pretty abstract and value driven, but they are very clear and this vision board so perfectly represents them.
I want my son to dream. And pursue dreams. Right now they are to "have a girlfriend," "being rich," "having 100 cats and 100 dogs," and "be a rockstar like Dierks Bentley." And apparently…tractors. Who didn't have those kinds of dreams when they were 8?
It's an exercise in dreaming as big as you want to.
I'm still working on "values" with him. We're learning about setting aside money to give back and being generous. We're also learning about how much work it takes to build a business. We're learning about practical money saving ideas. Not everything can be about fast cars and girls (sorry guys!).
This is such a fun, eye-opening project to try with the kids. It's a great way to get their imaginations going and start creating some goals with them. It's also an illuminating project for you to do alongside them to bring your own goals into vision.
Here's something to distract you. This Pinterest board is all things Vision Boards if you really want to get into it.
So, let's hear it…
When's the last time you created a vision board? Did anything stand out to you?