So, I've been loving working out on my back porch lately on Mondays and Wednesdays, when I do my regular strength training. (Tues, Thurs and Sat are cardio/running and Fridays are Pilates/Yoga/Barre day).
I realized what an asset this natural setting is for workouts. Why work out inside when I can work out here, listening to the morning birds and crickets?
I'd also like to share the workout I did this morning with you. Feel free to pin it so you can try it out this week: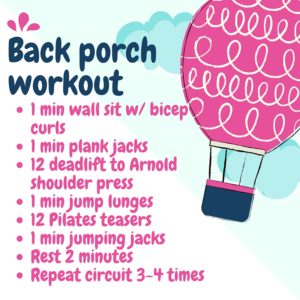 I don't have visuals of the moves, but you can easily Google them if you don't know what they mean. I was thinking about Livestreaming parts of my workouts, so let me know in the comments if that's something that would be helpful.
For this workout, I used 15 lb dumbbells to really burn out my muscles. And I just used the stopwatch clock on my smartphone to time the moves. The faster you go through the circuits, the more fat you'll burn. I was dripping from head to toe after this!
Let me know in the comments: would you be interested in seeing my workouts Livestreamed?
Where is your favorite workout spot? #FlashMe your workout hideout.