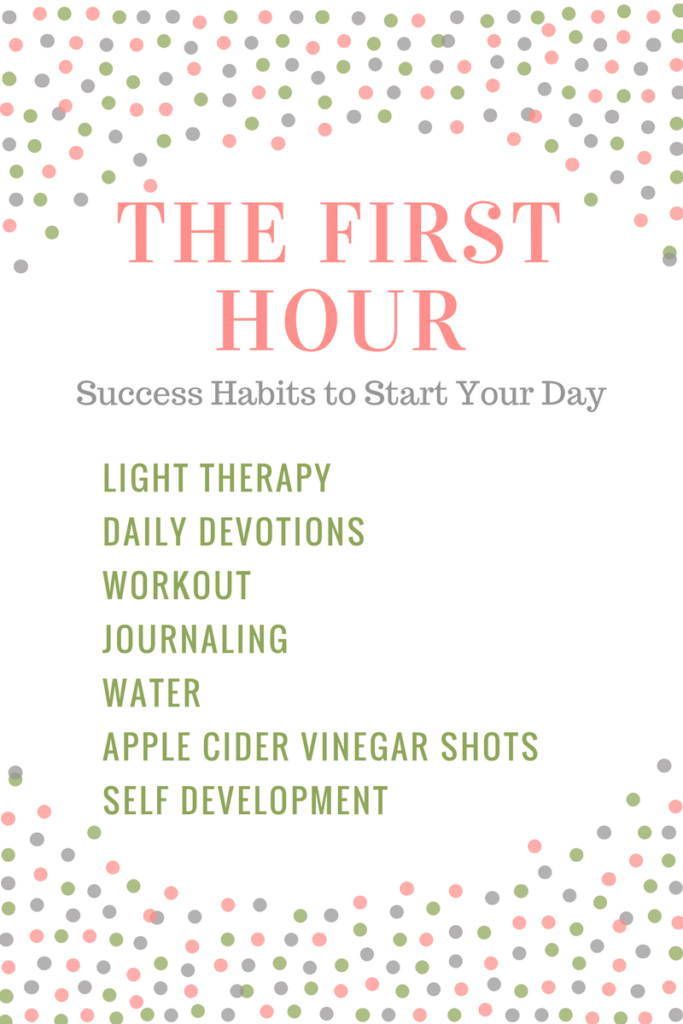 Ok, this post is a little bit different take on the "Change Your Life on Your Lunch Break" series, but this topic is super important.
What you do in that first hour upon waking will set the tone for the rest of the day.
Most of us wake up, snooze, wake up, snooze, finally get up, shower, coffee, off to work, meanwhile wondering exactly how you got to work because you can't quite remember your drive in. Right?
That, my friends, is exactly what they mean by "life on autopilot."
But you don't actually want to live on autopilot, do you? You want to live with purpose!
What you could do instead is be more intentional about that first hour of your day to really transform then way you enter life day-by-day, over the course of a lifetime.
You can change your entire mood, your vibe, your drive, everything, if you do it correctly.
I did my first Facebook Livestream on this subject. Have a listen:
Success habits for the first hour of the day:
Light therapy or sun: I am drawn to the sun. I think we are wired to be drawn to light. There's got to be a reason why light and mood are so interconnected. In the winter, I do at least 10 minutes of light therapy or sit in a sunny window to stay ahead of my anxiety and depression.
Daily devotions: God comes first, always. Instead of trying to fit God into my busy schedule, I need to build my schedule around God first. So, I try to make sure I get my nose in His Book every day with guidance from a daily devotion reading.
Workout: I work out 6 days a week religiously: 3 days of cardio, 3 days of strength training. Fridays are usually barre and Saturdays are a long run. Working out immediately in the morning wakes you up, pumps you full of endorphins, and makes you feel ready to take on the day. Working out improves everything about life.
Journaling: my "adult" type journaling consists of asking myself questions about what I need to work on, focusing on my goals, and really stretching myself. The repetitive nature of doing this every day is important so that goals don't just get ignored like when they're written on a note posted to my computer.
Water: We all wake up dehydrated, so getting water into your system first thing gets the motors all greased up and running.
Apple cider vinegar shots: I use Tone It Up's Bombshell Spell from their nutrition plan. I've seen so much research about apple cider vinegar. And for some reason, even though acv is harsh, the way they make the spell is addicting.
Self Development: filling your mind with thoughts of potential and empowerment will make you a better person. This was a habit I picked up from my network marketing days. One of the three essential habits was personal development and I really felt like it was powerful. If you can make yourself just a tad bit better every day (read The Compound Effect), you will be amazed how far you can go after a year, or even a few months.
***Another thing I didn't mention on the video is music. I have several playlists on Spotify that are meant to lift my spirits. They're all songs that personally make me feel inspired and uplifted. My favorite thing to do right now is to listen to "Rebel Beat" by the Goo Goo Dolls while I journal. That song is like my theme song right now. I also like to listen to upbeat music while I'm working out. It changes everything! The difference between a silent workout and a music-ified one is drastic!
Most of these morning habits can be done simultaneously. For example, I'm usually listening to music and drinking water while I workout. Then, I use my light box while I'm getting ready or doing my devotions. Journaling takes about 10 minutes, while I'm listening to Rebel Beat. And then self development is typically ingrained in every part of my day. When I have my ear buds in at work, I'm typically listening to some type of personal development content.
If you layer your day this way, and remain intentional about what you're doing with your body, what you're feeding your mind, what you're surrounding yourself with, how you're feeling, you can see how this would elevate just about everything, right?
And I know when I'm starting to feel crummy about something, all I need to do is turn to this list to refocus and elevate my mood again.
Once all these things are out of the way in the morning, the feeling is euphoric! These habits put everything into perspective and give me a compass for the rest of my day that leads straight toward fulfillment.
Add value to your life by being intentional with the first hour of the day.
Let's hear it…
Do you have specific morning habits that you do to start your day?
Does this inspire you to try being more intentional about your mornings?