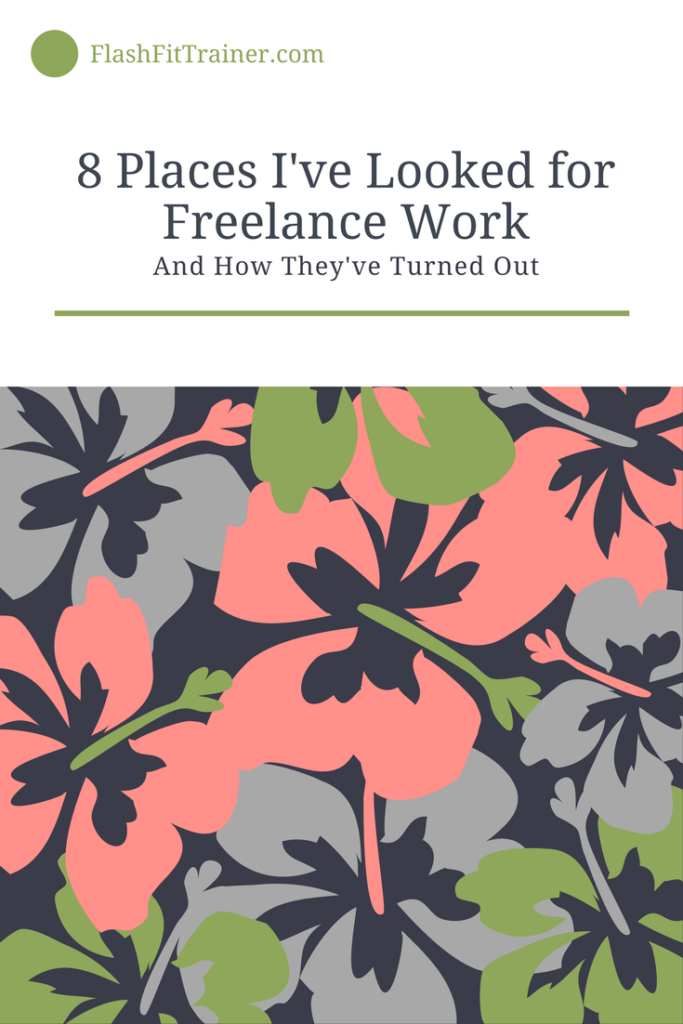 I do it too.
I see a new site offering "high-paying jobs" to freelance writers and think…maybe this is it!
The secret place online for finding high caliber freelance writing jobs!
I continue searching for that ONE website that will be worth it. That will bring me quality, high-paying work in my niche.
And I'm disappointed almost every.dang.time.
I should've learned by now. These just don't work. There's a reason why they'll never work.
These job boards are free. If a company can post a job for free, they'll post almost any crappy jobs for free.
Someone out there is always willing to write for $0.02 per word. You need to find the clients that know your much higher rates are worth it.
This is the easy way. I believe in "easy ways." But not when it comes to something as serious as my work.
This is also the lazy way. I prefer to be proactive and go out an find my own opportunities, not wait for them to come to me.
The people looking for quality writers aren't on any of these sites.
Every freelance writer wants to know where all the best jobs are. That's likely why you're reading this article. Well, I'm sorry to say, but most of them aren't on these sites.
The best way to find quality writing jobs?
Cold pitching.
That will be the moral of this story.
But let's take a look for a minute at some of the sites that are pulling freelancers in and see how I fared when I tried them.
Since I keep track of every single pitch I send out in my pitch tracker (get a copy inside my free freelance writing course), I can tell you exactly where I've pitched and how it's turned out.
Of course, so many other factors come into play, like what your pitches sound like, the timeframe of your pitch, how you position yourself, and how strong of a candidate you are, but I'm just going to focus on the avenue in this post. Also, I will say, I'm still holding out hope for one or two of these as they sound good in theory but haven't yielded any results yet. I will keep trying and report back if anything changes.
Where I've Looked For Freelance Writing Jobs and How They've Turned Out
Creative Circle is a staffing agency, but not the run-of-the-mill, desperate-grunt-jobs-for-pennies agency like you're thinking. Far from it! They're a high-end talent agency for digital professionals (web designers, writers, social media specialists, and the like). They pair freelance writers with companies that need specialized talent on a freelance or full-time basis.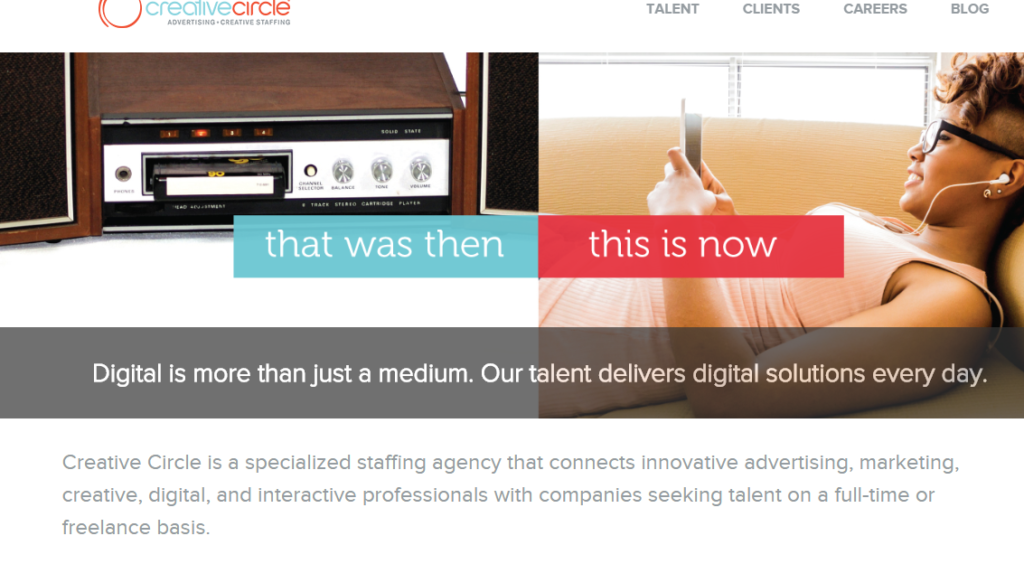 To get into the Circle, you have to send in an official resume and application and then go through a phone screening and reference check. Once your agent gets a better idea about you, they start sending you daily job postings that fit your criteria. The emails I get for job openings are usually upwards of $30 an hour in the health and B2B niches that I specialize in.
You can apply for any of these projects by sending a current copy of your resume (which is weird for a freelance writer, since we usually go by our portfolios) and three bullet points about why you're qualified for the position.
How it's worked so far: So far, I've applied for several projects that were perfectly aligned with my talents and I never heard back. I've always gotten an auto-response that says something like "due to the influx of applications, we can't reply to every candidate. I've had no luck. Now, we probably could pick apart my resume and my qualifications like we could for anyone, but so far it seems difficult to break into this one. But the jobs look rather enviable.
This online platform allows both businesses and freelance writers to set up profiles and communicate back and forth in the form of pitches for freelancers and assignments for businesses. Companies can ask a specific writer to accept their assignment or they can post it to everyone. Writers can also send their own pitches to the companies that are on the platform. The writers and the businesses can attach a price to their offers.
This site is supposed to be different than a content mill in that they only want quality writers, but I'm skeptical, because anyone can set up a profile just like on any content mill and a few of the projects I've seen quoted are laughable at best ($35 for a case study!!!). I'm not sure how the creators regulate this kind of thing, but it definitely needs some tweaking.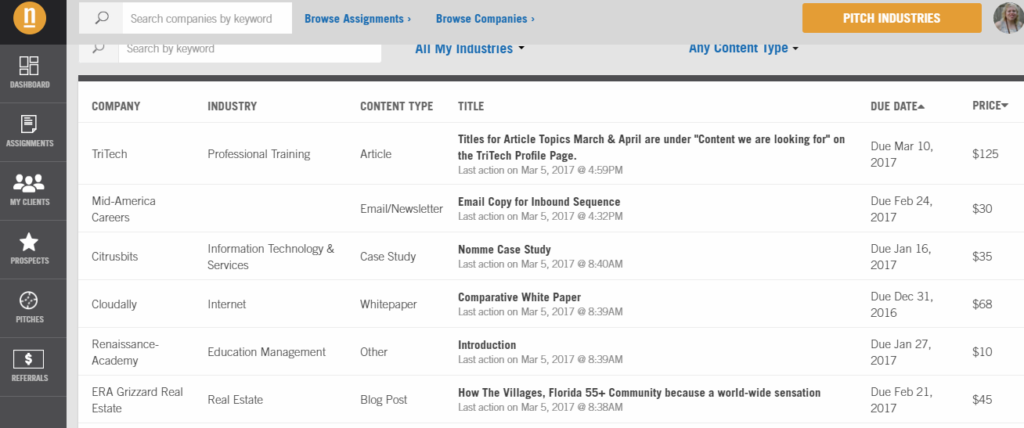 There's not really great communication on this website either. nDash asked for articles on certain topics which I "applied" for and commented on, but I never heard anything back and the comment wasn't acknowledged. You also don't get emails if anyone accepts or rejects a pitch. You need to always remember to check your assignments and pitches all the time, where you mostly see that the businesses "politely declined" your application. And when you "Apply" for an assignment, you simply press a button to Apply, you are given no chance to explain your expertise.
How it's worked so far: I haven't quite figured this one out yet, and I haven't received any offers or acceptances for the pitches I've made. I've sent multiple pitches to different businesses, but I have yet to receive any kind of response.
When I've scrolled through the list of businesses that are actually on nDash, they seem scarce.  Perhaps they're too new yet. I'm not sure, but so far, I feel like there's a lot of room to grow.
FB group job boards
I'm in a few entrepreneur groups on Facebook and a copywriting job board. Once in awhile, an entrepreneur or web designer will post that they're looking for a copywriter in these groups.
Facebook groups can be a great place to find jobs, but you'll be amongst dozens of others that reply, unless you happen to be the first person that notices the post and applies. These also require sifting through for quality and niche-specific assignments.
You may also land a client a roundabout way in Facebook groups by being an awesome human, offering value for free, and showing up every day.
The cool thing is that these entrepreneurs are some of the best clients a writer can have. They've got the same ambition and mindset and they're just awesome people.
How it's worked so far: The connections I've made in Facebook groups have resulted in several very invigorating client phone calls but no actual projects. (Entrepreneurs can also be hard on funds.) I also thought I landed a social media job for a FitBit-like tracker thing. The prospect sent me a tracker and everything. But I think there was a language barrier and it just kind of fell through (which is ok, because the tracker wasn't very good). Anyhow, I haven't received an actual paid job this way yet.
Problogger's job board tends to be a little more high caliber than your standard writing job board (as I'm sure this is one way the creators of Problogger preserve their integrity). I check this job board almost daily because of this, but I don't spend a lot of time here.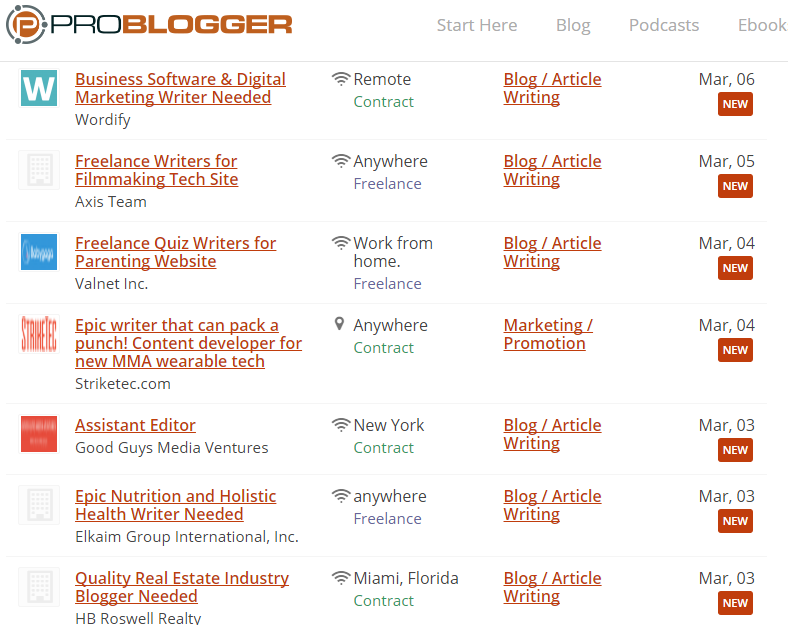 Some of the offers on here are laughable ($0.04 per word is not industry standard, tyvm) and only occasionally do projects in my niche come across. You can see that there are only a few job postings each day. So, it's very much hit or miss.
If you really want to land a gig on here, you need to get your application in immediately. Each business that posts will get hundreds of applications per posting. You need to stand out from all of those! Getting at the top of the list is one way. Another way is to personalize each pitch you send and to make sure read through the poster's specific instructions. Businesses will weed out spammers by using a specific instruction in their application process (i.e. put the words "Copy is Best" in the email subject line). You wouldn't believe how many people can't even follow simple instructions, so make sure you read through the entire posting.
How it's worked so far: One of my most lucrative clients came from Problogger. I'm really enjoying working with them, but it was after months of watching the board and being very picky and strict on pricing. I also landed my Baby Gaga contributor position through Problogger. The desirable projects are few and far between, but the ones that I've landed have been worth it.
This is another job board with the occasional posting that sounds worth it. They curate a list of freelance openings from all different places, including Craigslist. But you need to be careful with Craigslist posts because they can be sketchy.
I found a job posting on Craigslist where they send you a "test" where you have to write product copy for one of their products. I wrote a brilliant post and felt a little bit like maybe they do this to get free content. And I've heard that's absolutely true!
How it's worked so far: I don't check this site regularly, and I've applied for many, but I haven't landed any that were worth it. I've had to turn down offers that were on the same level as content mill prices.
I just found this site last week, so I can't say a whole lot about it yet. But the premise of this site is to pair businesses that need content for their site with quality, qualified writers.
The cool thing is, you can set your own prices on this platform. Then, Bunny Inc adds their rate on top of  your prices. You do NOT have to settle for any less than what you deserve. However, I do have a feeling that they're trying to tell me to reconsider my prices. No bunny, I will not reconsider.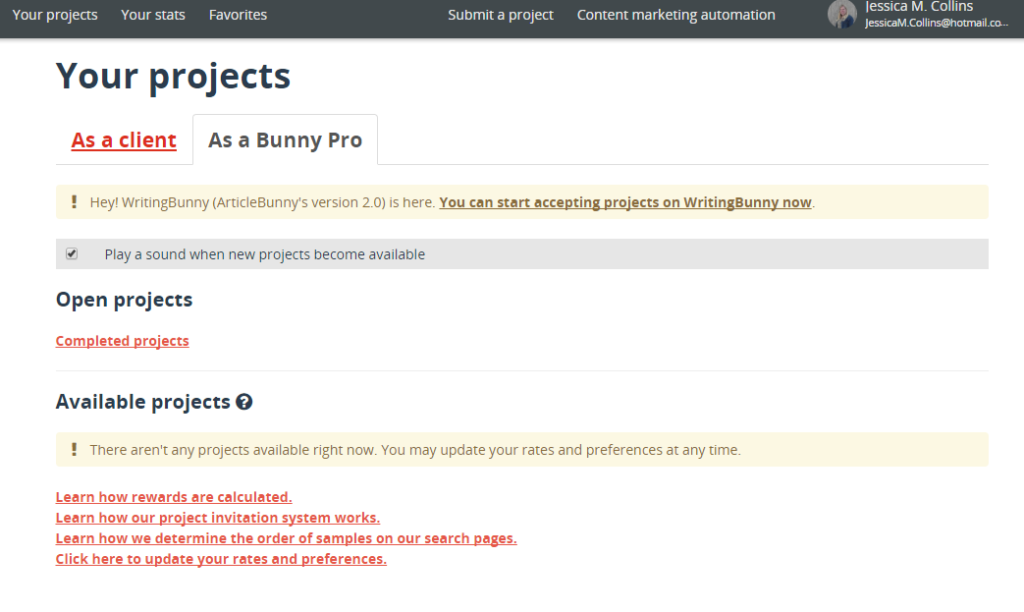 You have to pass a rigorous writing test in order to be accepted onto this platform. Only a tiny percentage of people pass the testing (I think it's like 3%). After some requested edits, I passed. I had to write a well-researched 1600-word article on the issues businesses face if they decide to hire a freelancer full time. It took quite a while to write and edit. Their editors are very clear that this is not a content mill and therefore, you need to have solid research to back up any claim you make.
Bunny Inc's tagline is "beautifully written articles from the best professional writers on Earth" and they need to live up to that. So, that's why they're so rigorous. It's a good way to weed out unqualified writers and preserve the integrity of the platform.
How it's worked so far: I've only been on this platform for just over a week, so I'm undecided about this one yet. So far, I have not had any projects assigned to me, so it certainly doesn't seem to be a viable income earner at this point. And like I said, I have a feeling my rates are not what they're looking for, which is strange if they want to only hire the best writers on earth. Just sayin'.
I got the tip to try out this site in a business course I took but for me, it was a waste. Basically, people looking to hire professionals to do any kind of job (landscaper, manicurist, personal trainer, writer, etc) can hire on Thumbtack. The aim of the site is to support small local businesses.
As a professional on the site, you have to purchase a package of "bids." In order to vie for any posted jobs on the site, you need to use a certain number of bids. Each posting allows for five bidders and the original poster gets to choose from those five. All of mine were passed on, probably because of pricing (which makes this system no better than a content mill).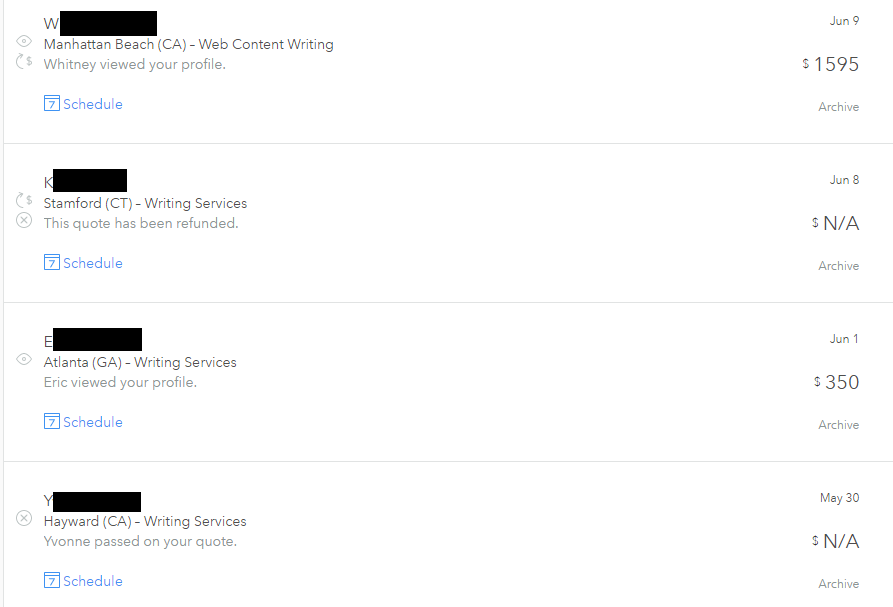 First of all, you should never have to pay to offer your services, but I was willing to overlook that fact since Thumbtack uses the bidding system to weed out people that aren't serious.
However, if you send a quote and the poster passes on you, you will still lose your bids. I spent $34.99 on a package of bids and they were all ignored or passed.  I will not do this again. In fact, I'm super suspicious of anyplace that charges you to work. For example, I've seen advertisements for Master Writing Jobs and I refuse to give them money at this point.
How it's worked so far: As a freelance writer, don't use this site! Waste of money. Waste of time. It might be worth it if someone is looking for a local personal trainer or seamstress. But not for a freelance writer. These are not the kinds of clients you are looking for anyway.
I saw that someone in one of my Facebook groups landed a job from networking on this site, so I thought I'd sign up and give it a try. Basically, it's a platform where local businesses can connect with one another. In fact, it's hooked up to LinkedIn. I haven't given it enough attention, but it's mostly another networking site.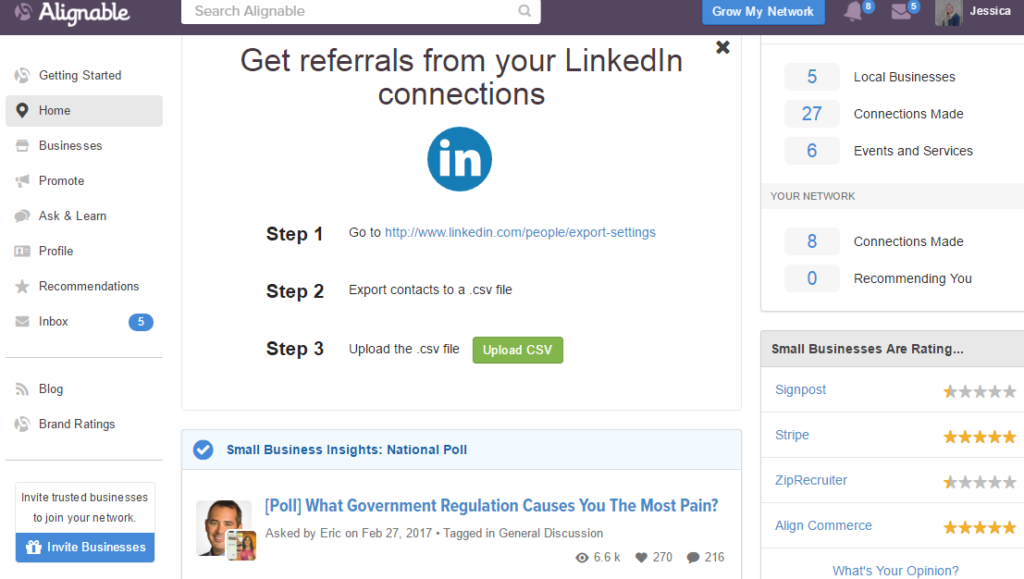 How it's worked so far: There's nothing on here you can't do from just looking in your local directory and cold emailing. I've only had one musician request I read his life story. No thanks!
The moral?
Let me repeat it again: Cold emailing is your ticket to a success story.
An alternative to content mills has not really happened in any valid way yet. The time wasted on these sites would be much better spent cold emailing niche prospects.
Don't waste more than a few minutes on these sites or try not to be dragged in by the siren song of a site that claims to be "the answer." The time you're using trying to find your golden ticket would be much better spent cold pitching in a strategic way to find the most lucrative work.
Make your own opportunities. Don't wait for them to come to you.
~Better every day
So, tell me…
Where have you looked to find freelance writing jobs and how have they turned out?