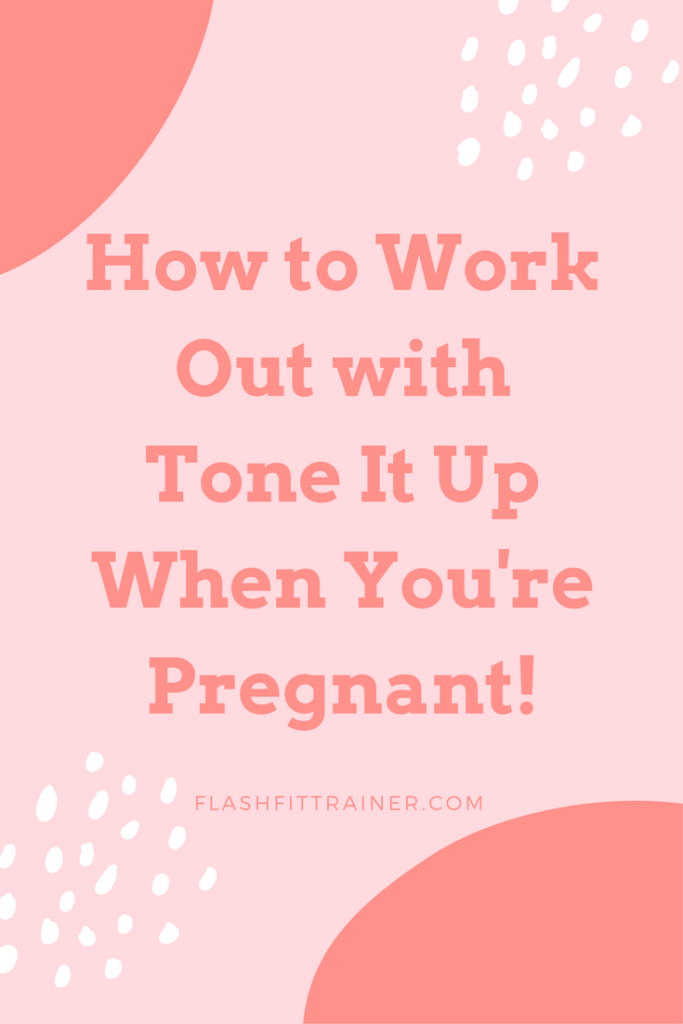 I'm a huge fan of Tone it Up, it's no surprise. I talk about them frequently on here. But once I became pregnant, I sort of started to ignore the workouts and motivation that K&K provide religiously. I just kind of shied away from anything that wasn't pregnancy-specific. There really aren't any Tone It Up prenatal workouts. And let's face it, their workouts are geared toward young, single or newly married women looking for a beach body. Preggos/moms aren't really their target market:)
However, during pregnancy I started to miss Tone it Up and I realized I could still incorporate a lot of their workouts into my prenatal routine, with some modifications.
Here are a few general pregnancy exercise guidelines (but always, always ALWAYS talk to your doctor first):
Avoid lying flat on your back or tummy, especially after the second trimester. You may still be able to do booty bridges and things like that while propped up on a pile of pillows, but if anything feels uncomfortable, stop.
Don't go too intense. I enjoyed taking my workouts down a notch during pregnancy. If your doctor recommends it, you can continue with the types of workouts you were doing before becoming pregnant. However, huffing and puffing isn't always safe. It's usually recommended that you keep your intensity at a level where you can still speak conversationally. And you also don't want to be working on gains during this tender period.
Twisty positions are kind of hard to manage in later stages of pregnancy and could potentially be dangerous. You may want to avoid them or modify them as necessary.
Don't get up/down really fast: blood pressure drops and blood flow changes can really mess with a pregnant woman. Moves like surfboard jumps and burpees are not recommended.
Jumping around: not only would this be super uncomfortable, but it can be unsafe. Moves that are jumpy or have the potential to cause you to fall are not advisable.
Don't stretch too far: the hormone relaxin can really mess with a pregnant woman's body and stretching too far is definitely a danger. Be careful to stretch only to the point where you just feel it and be careful not to go too deep because it's much easier to pull something.
Balance is tricky. During pregnancy, a woman's balance is compromised. Now, that doesn't necessarily mean she shouldn't do any balance moves at all, but she should be extra cautious, knowing her equilibrium might be off.
Different goals. Most pregnant women are not working on their beach bodies or running endurance races. We're preparing for labor, trying not to gain over the recommended pregnancy weight, trying to feel better/have more energy, and preparing to bounce back after baby. That being said, the workout needs to be tailored to those goals.
Getting too hot can be dangerous for a pregnant woman. Now, our bodies are super efficient at regulating temperatures and keeping baby safe, but getting too hot is still a concern. Bikram yoga and running on a 104 degree day are probably not in the cards. Drink lots and lots and lots of water and stay cool, mommas.
Preventing diastasis recti: Anything that pushes the stomach out rather than pulls it in is probably not a good idea at this point. Pushing out the abs (as during crunches) can actually increase that gap in the abs, so you need to be careful with ab moves.
With these recommendations in mind, and after a talk with my doctor, I was able to sift through the Tone it Up workouts to find some that were both tolerable and safe for me.
A Few of my Tone it Up Prenatal Workout Favorites:
Arms: there's not much need to modify with arm exercises, and your tummy doesn't interfere too much with them. Here are my top arm picks:
Legs:
Total Body
Now, I wasn't able to follow the TIU nutrition plan at all when I was pregnant. Pregnancy threw off all my food habits from the beginning, when morning sickness made only Culver's mashed potatoes and Pop Tarts tolerable. I wasn't able to meal prep because thinking about preparing food nauseated me and grossed me out big time. Later in pregnancy though, I was able to maintain a relatively healthy diet, but it definitely wasn't all clean and Hubster had to prepare most of our dinners (which turned into leftover lunches the next day). I was totally ok with that and enjoyed the break, but I sure did miss some of the recipes from the plan!
 
Aside from TIU workouts, I also have a few workouts other workouts that I recommend for expecting mommas: