I showed you my transformation pictures in my last post (*shields eyes with hand*).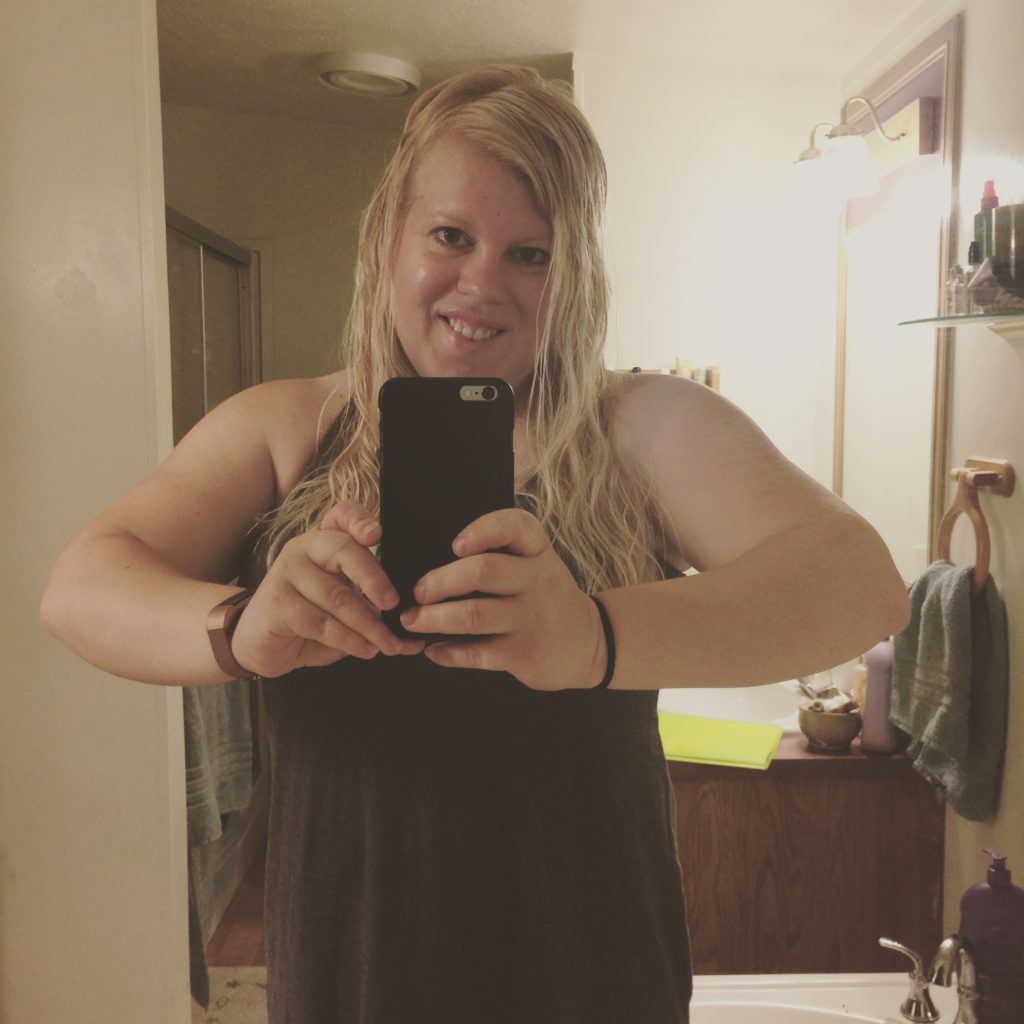 And I've told you before how I will have a really hard time losing weight, despite working out 6 days a week religiously and eating *pretty* healthy.
Seriously, my weight after baby #2 has crept up past my highest weight ever, despite doing everything I know to do. I'm working out way harder than I did when I was at my heaviest (I was sedentary), more than anyone I know, and eating waaaaay more healthy than I did then (all-you-can-eat a lot).
It's infuriating to say the least!
I'm still higher than my previous highest weight when I was sedentary, but it's finally budging. Especially with the Bikini Series.
So, how was it that the Tone It Up Bikini Series finally did the trick?
I've been thinking a lot about this.
I really wanted to get to the bottom of it, because I want to be able to help other people. And I want to be able to return to this whenever I need a jump-start again.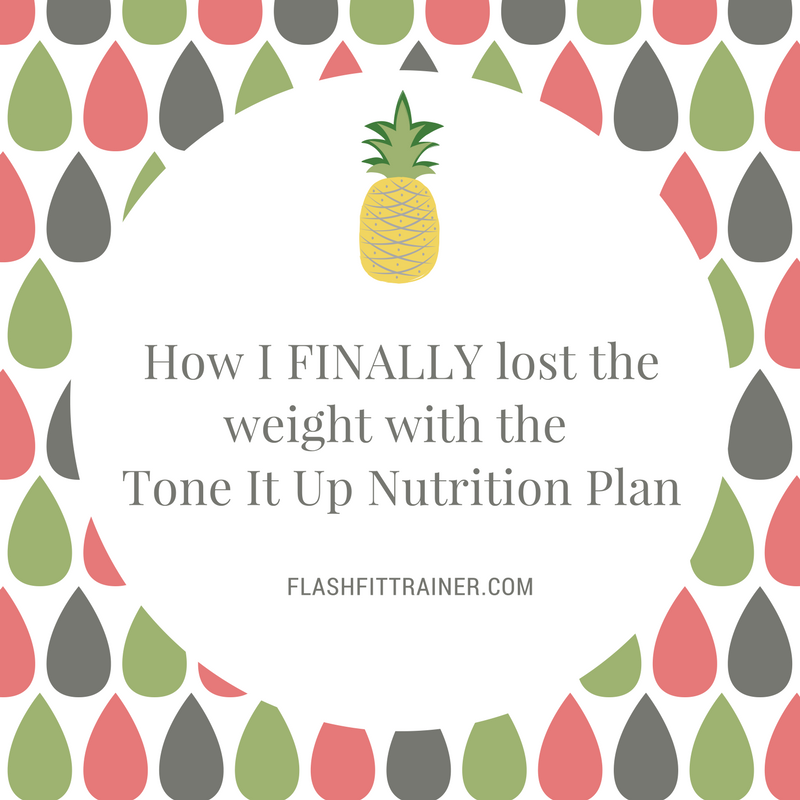 How was it that the weight came off this time?
I followed the Tone it Up nutrition plan pretty closely. I chose Meals 1-5 from the nutrition plan and even had a nightly handful of dark chocolate chips. I had a few "off-plan" days for sure, but ate 95% on the plan. I really tightened up on the snacking, which was huge.
I built my meals around veggies and lean protein: Start every meal with veggies and protein, because Lord knows we need more of those in our lives. If you've ever tracked your food for a few days, you've likely noticed that you don't get enough veggies. That you eat too many carbs and too little protein. You likely just need to adjust that balance. You can do that by starting with protein and veggies at every meal and then building them out from there. Fats and carbs aren't evil though. So, I had a lot of protein smoothies and egg scrambles for breakfast, salads and quinoa bowls for lunch, and chicken/veggie tray meals. Which leads to my next point…
Don't eat starches after 3pm. This is one of the recommendations on the plan. Our dinners tended to be chicken and veggies, sprayed with olive oil and peppered with seasoning. I tried to stay away from potatoes and noodles for dinner. Where I come from, that's blasphemous. LOL. Meat and potatoes are dinner, not chickpeas and broccoli. But really. There's something about starches at night that make your body hang onto it. I notice that I always weigh heavier in the mornings after I eat starchy dinners.
Don't think so much about food! Our culture has so many polarizing emotions around food. But food is just a thing that fuels our bodies. It's important, but we don't need to think about it so hard. I didn't let thoughts about food get away from me in between meals. I prepped all my meals and I had extra snacks on hand, so I didn't need to think about food all day. I knew what was coming and what to eat next, so I didn't have to think about it. Without food on my mind, I didn't feel compelled to keep eating when I didn't need to.
Don't eat after 6-7pm. There's something about eating late at night that makes our bodies hang on tight too. Allow your body to digest your last meal for at least two hours before bed. Your body needs to spend its sleeping time repairing and rejuvenating your body, not digesting. Any food left over in your system that you didn't need for the day will be stored as fat. No thanks!
Don't "wing it" on the weekends. I have a tendency to prep meals for the workweek and just leaving the weekends to chance. Bad idea. During the challenge, instead of winging it, I had a plan. I prepped every meal for the week, even on weekends, so the weekends didn't destroy all my progress.
Build in backup snacks for your backup snacks. You know you're going to be hungrier some days than others. Instead of assuming you just won't eat when you're famished (bad idea!), make sure you have some lean, clean, and green backup snacks. Then, a few backups for your backups. It's way better to have all these extra snacks within reach than to assume you'll be fine, only to end up desperately reaching for Lucky Charms or whatever other sugary monstrosity you have stashed away. When you're hungry, eat. Just make sure it's nutritious. Don't starve and then cave!
Jump into a fitness community: whether it's on Tone it Up, Fitbit, Sparkpeople, Kayla Itsines, Lauren Gleisberg, Blogilates, or wherever else, find a tribe of fit-minded women you can join. The #tiuteam (that's how you find them on Instagram) is super accepting and supportive of one another. Having hundreds of other TIU girls in my newsfeed and getting encouragement from them on my posts always energizes me. When you scroll through a newsfeed of women who've already worked out at 5 in the morning, you feel compelled to jump out of bed and get your own workout on. Several other fitness platforms have communities built around them too. Find one and jump in. The motivation works! They say you are the average of the 5 people you spend the most time with. Are those people fit-minded for you?
Drink. Like, a lot. Drink until you aren't thirsty. And then drink a little more. Honestly, if your body doesn't have enough water, it can't work correctly. Your metabolism can't work correctly. So drink first before you eat to make sure your hunger isn't thirst in disguise.
Work on getting better every day, not just trying to be perfect on the first day. I think we have it backwards. When we start "diets" or any new goal, we tend to want to jump in with perfection on the first day. But that kills us! What if we started with better-than-normal and just got better every day from there? Do your best, do better tomorrow. When I had a bad day, I just jumped back in better the next day, and it paid off! Constant improvement works out a lot better than all-or-nothing.
Move more. Besides your workout, make sure you build more movement into your life. I noticed that my weight went down whenever my Fitbit stayed in the 8-10k range every day. On days when I wasn't quite that active, nothing happened. On days when I was over 10k, I woke up lighter. Get up from your desk every hour, stretch, walk around, and don't plop down at night.
Get your family on-board. My hubby is a trucker, so he's been gone, and I made my family aware that I was following a plan to eat healthier. Otherwise, ice cream and donuts e'eryday, between my mom and father-in-law. And as much as I'm disheartened by my husband being away for long stretches, it has been really good for my weight loss efforts. Before, he was our chief dinner maker, which weren't healthy. Hey, I can't complain about a man who cooks dinner for his family, so I ate anything he graciously made. But once I had to start making dinner for myself and the kids, my weight started going down. I have control over what's on our plates at night again, so I can make it healthy.
I no longer have work temptations. Yay for freelance life! No more office donuts, vendor treat boxes, birthday treats, vending machines, and catered meals. Everything I grocery shop for and have at-hand are the only things I eat, and they are only healthy things. Makes eating healthy a whole lot easier.
Well, there you have it. My full analysis of why the Tone It Up nutrition plan worked when nothing else did.
To keep the momentum going, I've jumped into Round 2 of the Bikini Series, along with another group of women (more support!). So, I'll be following the plan again for another 8 weeks to hopefully keep progressing from here. It's working. I'm not going to mess with it. Plus, I love the recipes and the way I feel, so I figure it's best to keep going. That's what they mean about making a lifestyle change anyway, right?
How about you?
What are the tweaks that you've made in the past that have worked for weight loss? Anyone else have an extra EXTRA hard time losing weight?