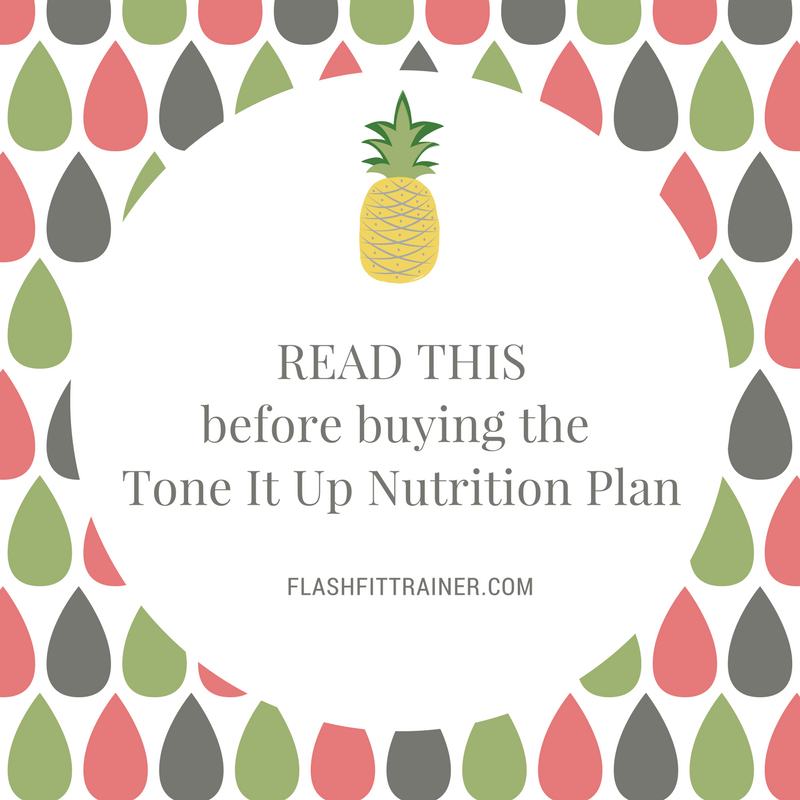 So, you're on the fence about purchasing the Tone It Up Nutrition Plan. You just can't see throwing $150 out there on a glorified recipe book.
That's how I felt too.
Heck, if I wanted to, I could find all the recipes online somewhere. I could probably find a bootlegged copy somewhere, but that makes me feel dirty.
I followed Tone It Up for a good two years before finally caving. Those thoughts above are why I didn't make the leap sooner.
But after finally caving, I realized that it wasn't just a recipe book I purchased.
Oh wait, before we go any further, let me just preface this by saying, I'm not an affiliate of Tone It Up at all. I don't even think they have an affiliate program, otherwise I would've signed up. Their word-of-mouth marketing is strong enough to not need one. This is just me speaking from my own experience of being a 5-year member myself.
What you're actually buying when you buy the Tone It Up Nutrition Plan:
You're not just buying a recipe book for $150. That's preposterous. I wouldn't do that either. Amazon has plenty of amazing recipe books for under $10.
No, what you're actually buying is your ticket into the inner TIU circle.
When you sign up, you get all the member benefits and you get to play with all the other TIU girls. You don't have to "wonder" anymore about the plan, searching Pinterest, Instagram, and Google Images for sneak peeks of the pages. Haha, I see you;) (I did it too.)
Along with the recipe book, you also get a nutrition guidebook. It teaches you some nutrient timing basics and reasoning behind the plan. It gives you the plan breakdown and walks you through the benefits of eating lean, clean, and green. It also makes eating this way really fun…and hot! It's not a crazy serious "diet" like some of the other plans out there. It's a way to have fun with good nutritious food and hang out with your girlfriends in the process.
The plan also includes the infamous 7-day slimdown, Tone It Up's proprietary slimdown-for-an-event plan that you'll hear everyone in the community talking about.
Speaking of which…The level of FOMO that you feel in the community is enough to sign up alone, amiright? You see all the posts on Instagram of what everyone is eating, you feel the excitement when new plans come out, and you see everyone sharing their printed book pictures and you feel left out. There'll be no more FOMO when you finally get it!
And it really works! You can see the evidence in all the transformation pictures out there. You see my own story! I have a seriously difficult time losing weight, and even I have been able to lose the weight when I follow the plan.
Another benefit of signing up is the member emails and exclusive discounts. Members get their hands on everything first. And they get their hands on some things that others don't. There are some great members-only sales and discounts on TIU retreats, merchandise, apparel, and Perfect Fit.

Members also get access to all past and future editions of the plan and all the series meal plans. Every time Karena and Katrina launch a series, like the Bikini Series, a new meal plan comes out with additional recipes, along with weekly meal plans and grocery lists. You're basically getting your eating plans for weeks and months at a time handed to you on a pretty coral and teal platter (probably with an etched mermaid on it to boot!).
It makes it a whole lot easier to follow along with their plans and get major results if you're a plan member.
Another benefit: you're only eligible for some of the series grand prizes if you're a nutrition plan member. To be a Bikini Series grand prize winner, which is being selected right now, you must be a nutrition plan member.
You also get access to some exclusive groups in the community and on Facebook if you're a member. They'll only let you in if you are a paid member (and not a bootlegged one either, just FYI).
It's a one-time fee of $150 to get you all.of.that!
As a businessperson, I can appreciate how TIU could've used a whole different business model and made a whole lot more money if they would've set things up differently. They could've created a membership program where members pay a monthly fee, which would've added up to well over $150 within a few months. That's what a lot of other online businesses are doing.
Now it doesn't sound too bad to pay $150 to become a plan member for life, right?
Do yourself a favor and just buy it already😉 M'kay? Call it an early (or late) birthday present for yourself.
Then come back here, and let me know in the comments that you did.
Those of you TIU babes who are already members, what is your favorite part about being a member?