*This post contains an affiliate link for a book I personally adore, but it doesn't affect the cost to you in any way.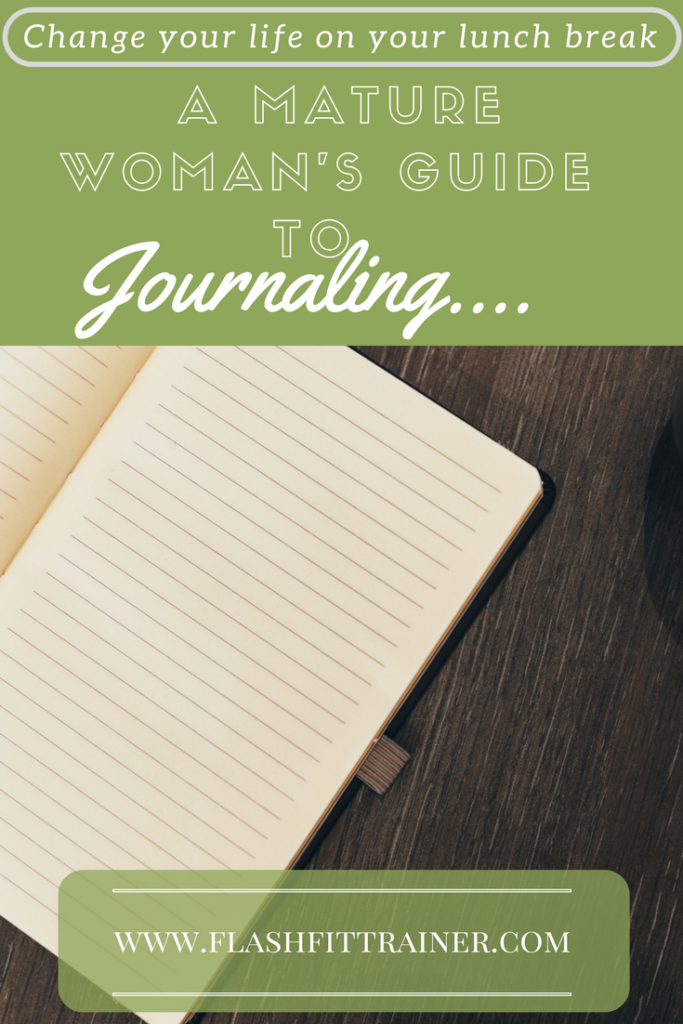 Dear diary,
Ugh! So much angst wells up inside of me from just those two words. Does it for you too?
Those words feel embarrassing. They drip with teenage restlessness and elementary immaturity.
So much so that I never revisited keeping a diary for a decade. And I'm guilty of rolling my eyes at people that suggest it. #timewaster
But now…
This is an incredibly juicy topic for me. It makes me light up. It makes me want to jump up and down while I tell you about it breathlessly.
So, picture me jumping up and down with a geeky smile on my face as I tell you about it, m'kay?
How to journal as a modern mature woman
First of all, let me introduce you to the woman who ignited this giddy pleasure within me.
Kat Loterzo and her book: How to Journal and Make Sh*t Happen!: The Book Every Woman Craving an Exceptional Life Must Own!

It's a whopping $3 on Amazon, so just get it and start devouring!
I was turned onto the world of journaling again by this crazy beautiful wild woman, whom I've now hired as my mentor.
Her way of journaling as a modern, mature woman has finally clicked with me in a way that nothing has before!
See, I've dabbled in art journaling, which was like the perfect marriage between journaling and scrapbooking. I purchased this course (not available for sale anymore) and never finished it because it just didn't have any relevant, immediate value to me. It was just pretty for pretty's sake, and mostly felt like an unproductive use of time in the grand scheme.
The difference with Kat's style of journaling is that EVERYTHING about it is meaningful. Not one bit of it is a waste of time. It's no-fuss and it's not necessarily pretty. But it's absolutely life changing!
It's hard to explain until you try it, but this kind of journaling unleashes something inside of you. It builds you into the person you want to be. And it helps you sort through your barriers to…anything. Which is really handy when you have a goal that you think seems unreachable.
Let me try to explain it as best as I can.
First, what is the purpose of this journaling?
To change your life.
Moving on…
Haha, no, but really. That's the short answer. The answer you'll figure out when you make journaling a regular habit for yourself. But let me try to explain it in a more practical and less esoteric sense.
Journaling realigns you with your goals every single day. You know how you have that Post-it on your computer or that sheet buried in a binder somewhere that lists out all your goals for the year? When's the last time you looked at it?
Exactly.
With journaling, you rewrite your goals every single day until they become so real to you, that you can't help but make them happen. They stay in front of you every day. And each time you write them out, you get the feels from them. They stay front and center in your mind.
Journaling gives you a sense of purpose. Instead of treating each day like a race to the weekend, running on autopilot, and just doing what's necessary to get by, journaling helps you focus on your short-term goals and your big picture life purpose goals.
News flash: You can live with intention rather than being dragged along.
First of all, you might have to journal to "figure out" what your life purpose is to begin with. Then, once you figure it out, you can journal it into focus. And journaling about it gives you a sense of purpose and gives you an opportunity to re-commit every single day, especially once you make journaling an everyday habit.
Journaling makes your dreams tangible. Bringing your goals into focus in a clear way, every single day, makes them easier to visualize, tangible even. It brings them into focus. Doing so makes them much easier to achieve.
Journaling helps you uplevel your life. You know my motto, the one that keeps popping up everywhere on my site because it's so close to my heart? ~Better every day. That's exactly what journaling helps me to do. Be a little bit better every day.
I might journal about what's not going quite right in my life and why to find an answer. I might journal about ways to make little parts of my life even better, like holding flowers in your hands instead of walking around empty-handed. Or drinking out of a gilded wine glass instead of a plastic cup.
Yeah, things like that. But also BIG things like turning myself into an online influencer. Journaling helps me to think bigger and reach higher.
Journaling helps you figure out your blocks. And by blocks I mean, whatever is standing in your way to getting to your goals. Say your goal is to become a coach, but you keep telling yourself that the barrier to entry is so high that you don't even now if you should bother. You would journal through that.
See, the difference between journaling and just "wondering" is that when you wonder inside your head, you don't get very far. Your wonder wanders. With journaling, you can key in on your wonder for as long as necessary. And you can't forget what you've written down, but you can forget thoughts you have.
Journaling helps you raise your vibe. Whenever I'm feeling kind of flat or even distressed, I know that an elevated high is just a pen and journal away. I'll just grab my journal and work through the feelings until I'm energetically high again.
I'll ask myself "why do I feel so down today?" and "what would make me feel better right now?" and "what can I be thankful for right now?" Immediately upon penning the answers, I will feel my vibe rising and my mood elevating. Even just writing this post about journaling is making my energy rise. It's a mental health trick I use all the time!
Journaling redirects my mind to the good things. Once you get into the habit of journaling what you're thankful for, your mind will be trained on all the things to be thankful for.
Journaling makes me a better writer. You know how they say that to be a better writer, you need to practice writing every day? Journaling is my Two Birds, One Stone. With my writing, I am able to capture emotion in my reader. And I have journaling to thank for a lot of that. Practicing reflection really helps nail those emotional triggers on the head.
Journaling is an idea incubator. One of Kat's exercises in her book above is to use journaling to help you come up with ideas. And this happens to me all the time now. I come up with article ideas, program ideas, kid activities, pitching ideas, you name it. I am an idea machine.
The magical thing about journaling is you can write something down, let it germinate for awhile, and see what happens. For example, I came across several people on Facebook that were doing really interesting work and I wrote down what they were doing and why they fascinated me. Then, I came up with my own program ideas based on that! I am also in the practice of writing lists daily, so my mind is trained to come up with more, more, ever more.
Writer's block is not a thing for me.
Journaling equips me for daily productivity. My favorite question to ask myself in my journal is, what do I want today to be about? When I focus on that right away in the morning, it equips me for the most productive of days. It gives me a focal point and something to shoot for. And on the days when I do that, I actually am more productive.
How do you actually journal?
I mean, it sounds too simple, right? But how do you actually approach it?
You get out a pen and notebook and you start asking yourself some reflective questions (like the ones below) and working through them. Or you just start writing about what's on your mind right NOW. Or what you've been thinking about lately. Or who you want to be.
Don't think too hard about what to write, just let anything come out. Even if you don't feel like saying anything, write down "I don't feel like saying anything today. Why is that?" And go from there.
Sure, you could ask yourself these questions without writing them down, but it will never be effective or life-changing to just "think about" these things. I've tried that. I've tried just thinking about what I want my life to look like, but "thinking about it" doesn't hold my attention for longer than about 10 seconds. I get distracted. My mind wanders in a million directions.
There's something really effective about writing it down, bringing it into and keeping it in focus, that actually allows you to work through your thoughts better than just "thinking," if that makes sense.
I will also say, don't waste time with all the pretty stuff like stickers, washi tape, decorative hand-lettering, and heart-dotted I's: that's a waste of time. Once you start writing, it will come at you faster than you can keep up with. And if you're a high achieving person like me, you'll find all that stuff to be a waste of precious productive time.
You don't need to take too long writing either. I literally set an online timer for 15 minutes every morning as part of my morning routine. And since this article is about changing your life on your lunch break, this would be a phenomenal way to use your lunch hour–or even one of your 15 minute breaks.
Journaling isn't just something that "sounds nice" in theory, it's a game changer, a life changer. It changes everything. I dare you to try!
I hope you're as excited about this as I am now! Because I want you to try it, to feel the energetic lift that I feel every day from journaling, I created some journaling prompts to get you started.
Journaling prompts
What am I feeling unsettled about today and why?
What do I want today to be about? (I use this one daily)
If I were living the life I've always dreamed, what would I be doing? How can I live that TODAY? (inspired by Kat)
If I look around the room I'm in right now, what do I have to be grateful for?
If I chose to be lighthearted and joyful right now, what would I be doing?
What does my perfect day look like?
What is the version of me that I want to be every day?
What is my personal mission statement?
I typed up 26 kick-butt journaling prompts like this in a pretty little document for you to get you started on this life-changing journey. Give it a shot, and then stop back here and gush about how it's working for you. Get it here:
***Note: after you fill out the form, the link to the prompts is on the following screen.

So, tell me…
When's the last time you journaled? Have I convinced you to start again, in a new way? If you regularly journal already, what has it done for your life?