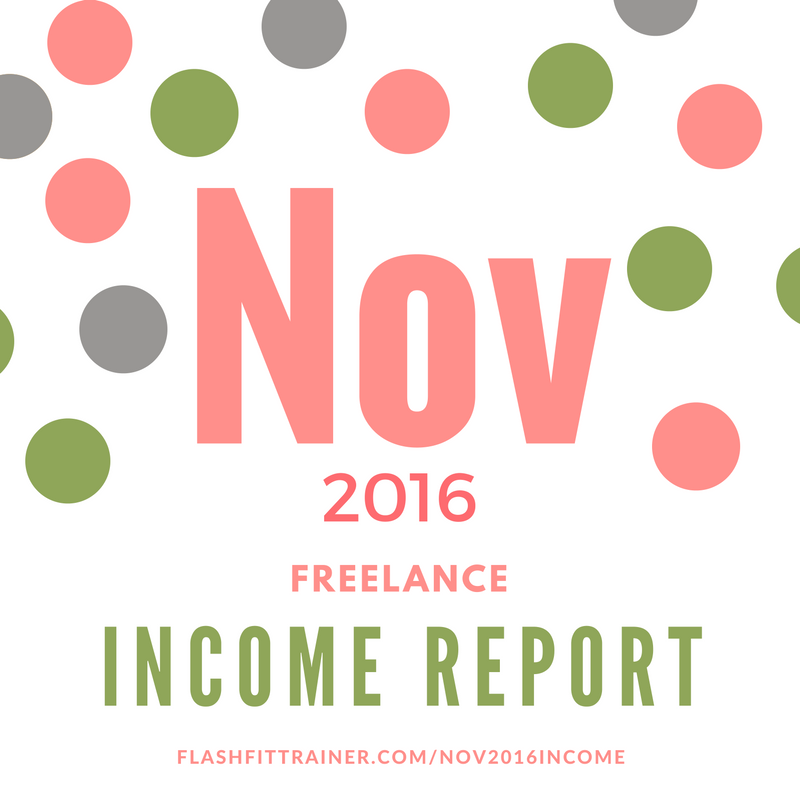 Here I am finishing up my second official month of freelance writing. And since income reports appear to be a hit, I will continue them.
And although it's a bit early in my journey, I can already tell you a few things for certain:
The work you get each month depends on how much you hustle and pitch the month before.
If you don't have any more hours in the day to work, you probably will level off at some point.
There's a way around #2. You need to demand higher rates and/or also leverage and diversify your income. What I mean by that is, you need to have other things for sale that doesn't just trade your time for money. I'm experimenting with this right now.
So, before I go any further, my freelance writing income for November was…
$1650
Not a bad chunk of extra change right before Christmas, eh?
Remember my income from October's freelance report was $1385. So, it went up a little: 19% if I did my math correctly.
Part of the reason I got a bit more than last month was that I had some "vacation" time from my corporate job so I was able to dedicate several full days to my freelance work.
Expenses:
My expenses were pretty trivial, unless you count the $277 I spent on a business coaching package. But actually, I used my own spending money I've been saving up for that, so I don't really know if that counts.
I also have the cost to maintain my site, but I paid that in full for two years several months back. I don't divide it out by month, I just pay it when it's due.
Freelance writing jobs I'm working on:
Writing copy for a fitness app
Product copy for snowboard equipment
A paid post on Make A Living Writing
I was working for several of the same clients as last month as the projects are ongoing for now.
My predictions for next month:
December should be roughly about the same.
I only have a little PTO left, so I don't have many more full days in December to work.
I didn't send out as many pitches in Nov to make Dec bigger. It's a numbers game.
My fitness app job comes to an end in December, so I'll need to hustle again to bring in some work for January.
And it's Christmas. I don't intend to spread myself too thin this month as we settle peacefully into this starry-eyed season.
If you're getting started on your own freelance journey, I've got some must-read articles for you:
I have many more up my sleeve for the future too, so be sure you subscribe so you don't miss them! And I plan on doing more of these income reports as well. So, if you enjoy seeing the cold, hard warm, fulfilling truth then stick around;)
So tell me…
What other freelance writing/biz topics would you love to hear more about?
Would you be interested to see how I track my income (it's very low-tech)?