As promised yesterday, here is one of the recipes from Natalie Jill's new book 7 Day Jumpstart, Unprocess Your Diet. It hasn't even been released yet, but I was given special privileges to read a draft copy.
Applesauce Overnight Oats is what I'm having all week for breakfast! Close your eyes and imagine the smell of apple pie or apple crumble. That's exactly what you get with this healthy, unprocessed recipe!
My son loves them too, they're totally kid-friendly. I had to make a few extra just for him.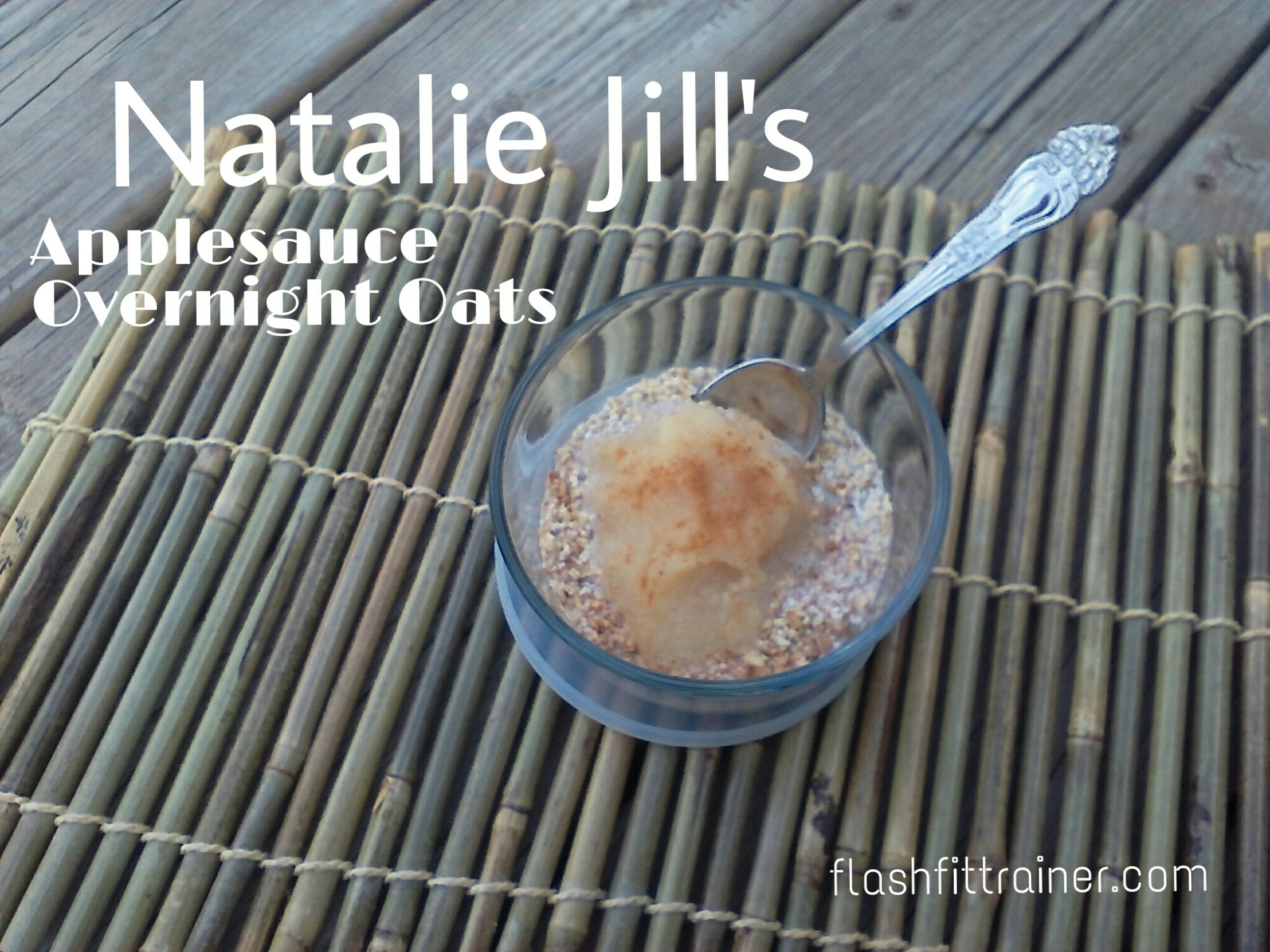 Applesauce Overnight Oats
1/4c rolled oats
1/4c unsweetened almond milk
1/4c unsweetened applesauce
1/4tsp cinnamon or apple pie spice
Pinch of salt
Directions
Stir all ingredients together and place in a sealed container like a mason jar or plastic container.
Place in fridge overnight and eat it as is or warmed in the microwave in the morning.
This recipe makes one serving. I multiplied the recipe times 7, which made 5 days of breakfasts for me and 2 days for my son.
I used steel cut oats and it turned out just fine. This recipe is a serious breakfast powerhouse and seriously cheap. Do you know how many servings of this you could make with one $3 carton of oatmeal and one $2 bottle of applesauce? Lots and lots, that's how many.
Did you know a clean breakfast could be this easy either? Drop a few typical pantry items in a bowl and plop it in the fridge. It's not a chore to eat clean, like it might seem.
Don't let all those "unsweetened" ingredients scare you off either. This is plenty sweet without it. I never knew how good unsweetened applesauce really was until I tried it either! I never bought it before because it sounded gross, but it's not! And one of the things that Natalie teaches you is that once you remove all the extra sugar and sweeteners in your diet, your taste buds actually become much more sensitive. After a few days of unprocessing, you stop craving sweets and don't need things to be quite so sweet. That doesn't mean you're banished to a life of bland food! Quite the opposite! Your tongue starts appreciate real food for what it is.
Let me know if there's any other juicy details about the book that you'd like to know!
Don't forget to show the love and pre-order your copy here:
Natalie Jill's 7-Day Jump Start: Unprocess Your Diet with Super Easy Recipes—Lose Up to 5-7 Pounds the First Week!