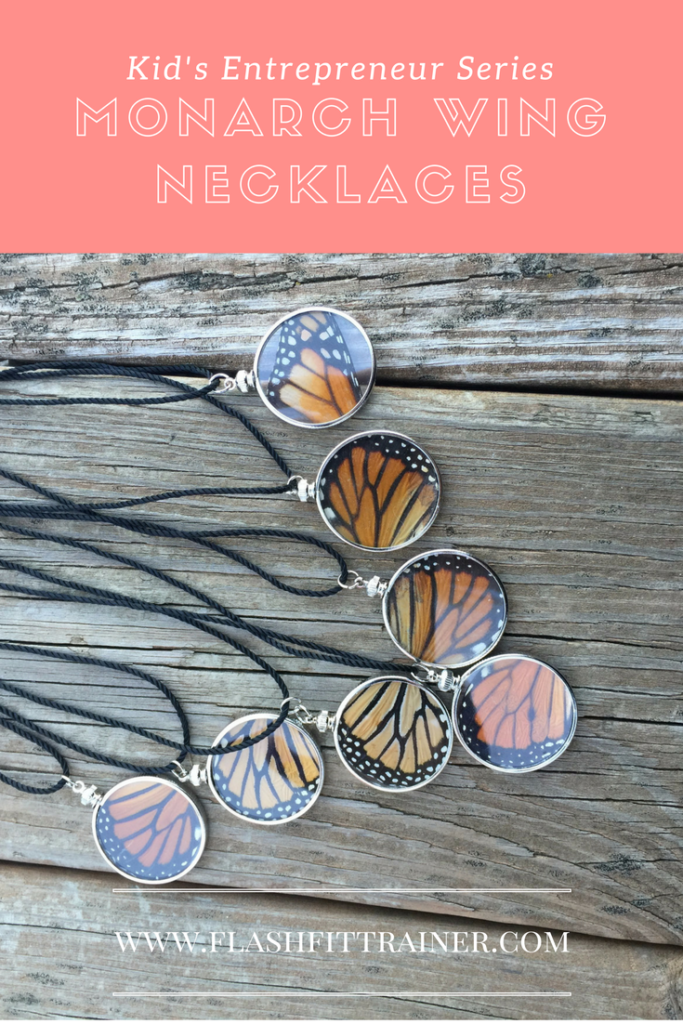 Hey #flashers,
Welcome back to my Kids' Entrepreneur Series where I'm sharing the ins and outs of nurturing little entrepreneurs. In the first installment, I showed you how we put together nature necklaces to sell at my work craft fair (which btw didn't happen because Kayne and I both ended up with the rampant flu that day. Major bummer).
Today, I'm back with another batch of necklaces that my son helped me make that we intended to try to sell at the craft fair and will still try to sell to last-minute Christmas shoppers.
These are so incredibly magical to me, especially since we got to witness Monarch migration happening in our own backyard this year. We also visited the butterfly gardens where we got to tag and release a monarch. Then, we tried raising a few monarch caterpillars ourselves.
So, this summer had a bit of a monarch theme going for us (one year it was miniature golf).
And over the course of the summer, we were able to collect a whopping 20 wings! (remember, each butterfly has 4 viable wings) One butterfly was the accidental casualty of Hubsters truck that we found in his grill, RIP pretty butterfly. We found two after they passed away in our own backyard. And the rest were picked up at the butterfly garden when we visited.
Though these beautiful butterflies had run their course on this earth, we were able to preserve their earthly bodies where their beauty lives on.
Press them in a thick book before using!
So, for the other supplies to do this project, we took a trip to Hobby Lobby and found these awesome glass window pendants. They came in a kit. Then, I bought one package each of matching jump rings, clasps, and cord crimps. I already had some nice black cord on hand. I used cord instead of silver to complement the black veins in the butterflies. The only other tool you need is a set of pliers.
All you have to do is place the wing between the two glass windows and trim around the edges.
Insert the glass panes into the silver frame and screw the top shut. They work just like embroidery hoops, if you know how embroidery hoops work.
Then, cut a piece of cord to your desired length. Attach the pendant to the cord with a jump ring.
Then, fold the ends down (because they fray) and squeeze a cord crimp on either end of the cord. Then attach a jump ring to connect the crimp to the clasp.
Voila! Quite simple actually! They probably seem more daunting than they  really are.
And the finished product makes my heart leap!
Such a simple project to do with your kids where you end up with a beautiful piece of art that everyone falls in love with. These would make great Christmas presents too for any ladies left on your list.
For the gents, I suggest framing the wings in a masculine frame with a cool background. (If you want one and you're local, hit me up; I still have some.)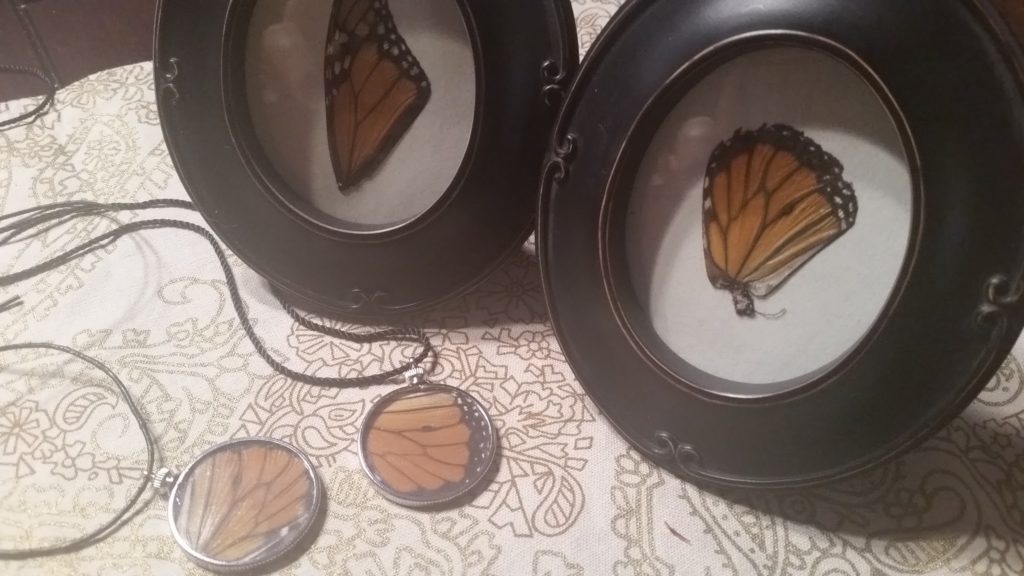 Since my nephews went to the butterfly house with us last year, I framed a wing for each of them instead of the necklace. They LOVED them! And oh, what a meaningful gift, since they're so attached to a fun memory.
What types of projects have you done with your kids that were worth selling?